#ViralNow: Lady shares her bitter experience with Taxify driver (Photos)
#ViralNow news pick: "I'm in shock; I encountered a female Taxify driver from hell"- Lady shares her bitter experience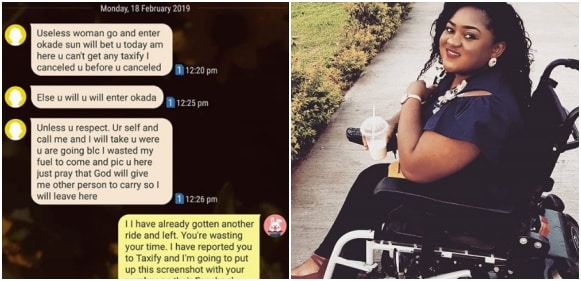 A lady took to Facebook to narrate a bitter experience she had with a rude female Taxify driver in Abuja.
According to the lady, identified as Blessing Mary Ocheido, the driver was peeved because the pickup to the drop-off points wasn't far.
The driver allegedly started acting rudely from the moment the trip was initiated on the App until she she located her at her pickup spot.
An argument ensued between them and the female Taxify driver allegedly cancelled the trip, kept on calling the customer with different numbers, before sending rude text messages to the customer.
Blessing wrote:
"I just encountered a Taxify driver from hell. I'm still in shock.
I requested a ride on the app and got a female driver. She asked where I was going to and when I told her, she became rude probably because she realised I wasn't going that far. I have discovered that Taxify drivers from Kubwa prefer that you are going into the town and would mostly cancel the ride if the trip is within Kubwa.
Anyway, this driver agreed to come pick me but kept dropping the call on me when I try to explain my pickup location. Then she arrived and started screaming at me to come out. I told her she had no right to talk to me like that and therefore I was cancelling the ride.
She cancelled the ride before I did and started calling me up with different phone numbers to rain abuses on me. I refused to respond. Then she proceeded to send abusive text messages to me.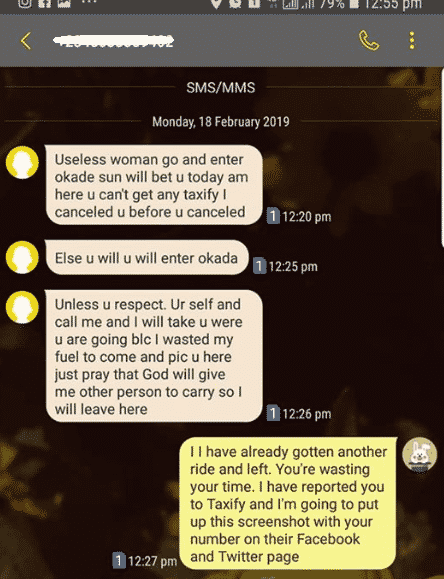 Guess what else she did? She refused to leave so that Taxify would keep bringing her up when I request for another ride being that she was the closest driver to me.
Anyway, I eventually got another ride and I have reported her on the app. Find attached a screenshot of her text messages to me".